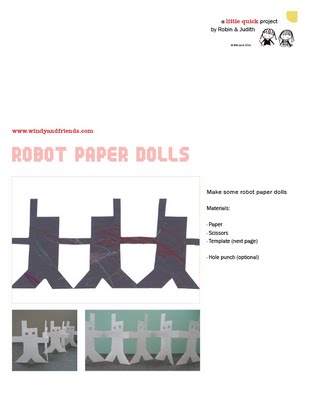 To make paper dolls, just fold a piece of paper in half lengthwise and cut along the fold, leaving 2 long strips of paper. Then fold one of your strips twice into an accordion fold (so you have 4 panels). Then cut out the shape of robot, making sure not to cut the edge of the arm on the fold. You can use a hole punch to make eyes, or draw them on.
Here is a robot shape (click on image to make it easier to see):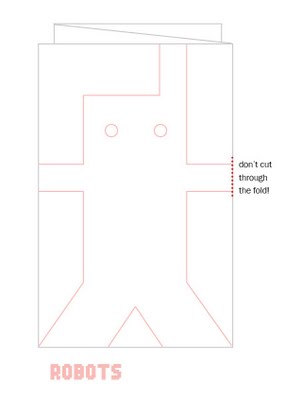 We made some mini-robots out of a scrap of silver paper (using a mini-hole punch for the eyes), too. To make a mini robot, you just fold your initial paper lengthwise twice, cut along the folds, leaving you with 4 long strips of paper. Then take one of the strips and fold it accordion-style into 8 sections. Cut the same shape on the top panel.