Here are some things I found very helpful in getting going on my first quilt: a small one for my son Auggie. If you are thinking of trying your first quilt, you might find these tips and book recommendations helpful.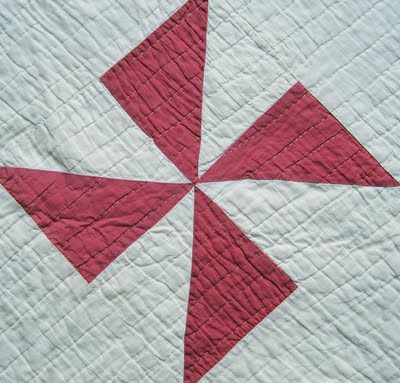 I was intimidated to begin, but my great-grandmother, Henrietta, used to whip up quilts by hand regularly for charity (they were always white muslin with one contrasting colour, here is a part of a pinwheel quilt she made).
Thinking about how casually she approached her quilting, I thought I would give it a go. I like seeing her hand in the stitches and so I am hand-stitching through the top (the piecing I did by machine). I pieced it together and prepared it for top stitching before he was born.
The inspiration for this quilt came originally from lovelydesign's really beautiful quilt for Adelaide. I thought a simple pattern of squares and quilting in the ditch would be easiest to start with. This is for a toddler's bed, so it's manageable in size. I'm using scraps of blue in the quilt. I might do the binding in orange or red, but probably more blue, I'm not sure.
Books and instructions
Joelle Hoverson's Last Minute Patchwork + Quilted Gifts was very helpful. It has small projects and a good glossary.
The other book I found helpful was Your First Quilt Book by Carol Oakes. It had good, clear explanations about the basics, especially basting.
Tools
My inclination was to jump in and use my regular thread and needles. But proper quilting needles and quilting thread (which is thick and doesn't tangle) has been really valuable. I also thought I could use an inexpensive regular embroidery hoop, but it turned out I needed a real quilting hoop, which is sturdy and able to accommodate a thicker fabric.
I used scissors to cut my squares and they are a little wonky. It's not a big deal, but next time I would use a rotary cutter to make it easier.
I used a spare cotton sheet (actually a box-pleated bedskirt that doesn't fit our new bed) for my white fabric. If I were to do another one, I would invest in quilting muslin. The cotton from the sheet is actually very nice, but it's tight and not as easy to stitch through by hand. I'm finding the squares with lighter fabrics are much easier.
I keep all my quilting tools in a little kit. All my needles, thread and thimble are in a little glass mason jar with a puffy top to hold my needles. It is easy to make: you just unscrew the top of the mason jar; pop the ring off the lid, place a handful of stuffing or batting on the top of the lid, position a small piece of fabric over top of the stuffing, then fit the ring back over the lid (securing the edges of the fabric between the ring and the lid). Then you poke your needles in the top. It helps keep me organized as I have only short little breaks to quilt. The idea came from Martha Stewart's Sewing Kit in a Jar, and is great.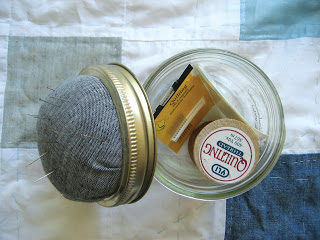 Last tips
Before piecing, I ironed and starched the pieces with spray starch. The starch helped.
I basted my quilt sandwich together very thoroughly, with light blue thread, using the instruction in the Carol Oakes book. The final stitches are white.