O Grapefruit! So bright and refreshing all through the winter. Your season ends in a few weeks...let's have some grapefruit quick!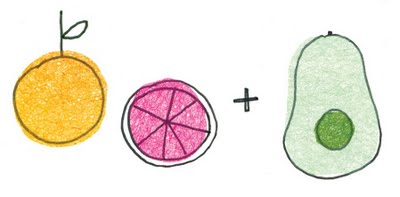 If you find grapefruit a little too bitter or sour,
try using a paring knife to cut off all the rind and pith and remove the membranes between sections
. (You can watch lovely Michelle of
segment a citrus
). Store the segments and juice in the fridge and when you pull them out for a snack, they are delicious and cool. A good June morning snack.
Now, a recipe:
It is a bit amazing when surprising flavours pair successfully. Who first thought of eating watermelon and feta together? Or cocoa and chili? For summer especially, it's nice to have a few recipes where the flavour pairing does most of the work and the preparation is really easy.
So, let's have pink grapefruit and avocado. They look pretty together, require little dressing (even plain is nice). They pair really nicely with simple, earthy main courses, such as black bean dishes.
Grapefruit + Avocado
Combine:
1 or 2 pink grapefruits,
, rind and membranes removed
A medium-ly ripe avocado, peeled and then halved, quartered or cut into chunks or slices, however you like
Then add your choice of:
a little olive oil + lime juice or walnut oil + lemon juice or dressing of your choice
You could also add:
a fresh herb, such as basil or tarragon
pistachio or walnuts
Then:
sprinkle with a little sea salt (optional)
Serve as a side with something simple, like a black bean burrito or a ham sandwich.