This weekend we'll be at attending the annual New Year's parade. And we're making classic lanterns for the house.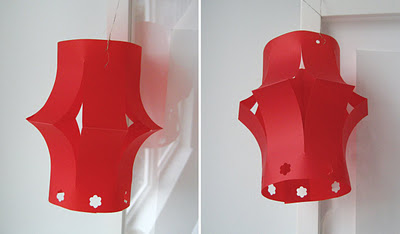 There a many good tutorials online to make paper lanterns. It couldn't be easier. We didn't use a template, we just folded and cut. It doesn't matter if the cuts are perfectly straight or even. Ours were very uneven and wonky, but you can't really tell at all when they are folded.
We used some red vellum paper we had left over from making mini kites. We punched some flower-shaped holes along the bottom for decoration. We received our decorative hole punch as a party favour and I'm won over. I never would have considered buying one, but we've had a lot of fun with it and Auggie loves it. Some glitter and stickers came next.

We punched two holes in the top to run thread through (we used silver/gold metallic thread leftover from hanging gingerbread ornaments on the tree).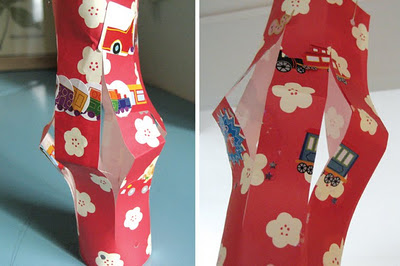 Auggie was into doing some of the cuts for the lantern, but he was more interested in hanging up the red lanterns than decorating them. However, he came up with his own lantern idea, which I really liked.
He took pieces of origami paper (our table had a lot of craft supplies, so he picked out what he liked) and then began making long sticker collages along the middle. He really likes making careful, long strings of stickers right now. Anyway, when he was done, we folded and cut and glued the same way as before and had these train lanterns (with some complimentary emergency vehicles). He was quite proud of them and we hung them over the doors.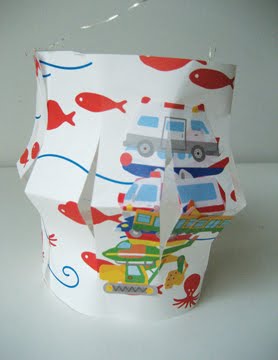 It might be hard to read, but the top here image is two pieces of origami paper side by side with stickers down the middle. It has been folded and cut and then flattened out to take the picture.
I love red, yellow pink around the house in the winter.